---
Chedworth Roman mosaics to go on display
One of the longest in-situ Roman mosaics in Britain is to go on display for the first time in 150 years at Chedworth Roman Villa, Gloucestershire.
BBC News Gloucestershire
27 December 2011
Archaeologists uncovered the mosaic and others as part of a £3m redevelopment. They said they had known for many years there were more than those already on display inside two Victorian-built timber sheds. The mosaics will go on show inside a new conservation shelter at the site, which is owned by the National Trust.
National Trust archaeologist Martin Papworth said the mosaics had been seen and noted during Victorian excavations. "Only two areas were put on display under the old shelters," he said. "However, when we did some work to check on their condition we were concerned that frost and weather were affecting them and it was agreed they could be better protected by building a new environmentally controlled shelter over that whole section of the villa and excavating them for display."

The mosaics include one of the longest in-situ corridor mosaics in the country, which is 35m (115ft) long. It will go on display under a special walkway allowing visitors to walk just above the Roman floor. One remaining section of the corridor mosaic will be excavated next summer.
Conservator Chris Cleere said: "The mosaics were wet when they were excavated and now they are safe inside the new building we will let them dry out and see what happens. Then we can assess what type of work we need to do over next summer for the long term conservation. In the short term we will clean the mosaics, stabilise them and prepare them for display to the first visitors."
The new conservation shelter, a redeveloped visitor facility and a new education centre will be officially opened on 4 March.

---
Mosaic artworks go on display in "Green Garden"
More than 125 mosaics can be found in the sunken garden on Loch Promenade, Douglas, Isle of Man
by Tessa Hawley
isleofman.com
August 2011
They are part of an initiative called "Garey Glass – Green Garden" which aims to encourage environmental responsibility. The sunken garden has a "recycle-reuse-reduce" theme and as well as the mosaics, which have been made using recycled material, features a pathway constructed from recycled bottles.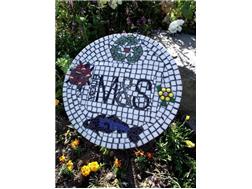 Community arts specialist Debra Tracey worked with local charities and voluntary groups to create the mosaics for the garden. She said: "Garey Glass has been a tremendous community effort involving people of all ages and abilities.
"I held a number of work sessions in the run up to the launch and it was wonderful to see whole families, from very young children to grandparents, getting involved with making the mosaics - every single piece of which has been used which makes the project truly inclusive.

"We've used as much recycled material as possible, right down to the jars and containers for the eco-art classes, and we found all kinds of creative ways to reuse plastic carrier bags - even for making the 'ribbon' cut by the deputy mayor at the opening."
Chris Pycroft, development manager for the Douglas Development Partnership said: "Garey Glass has brought added interest and a new sense of community to the sunken gardens which are magnificently maintained by the council's parks section.
"The mosaics will bring colour to the garden during the months when the flowers have died down while the LED lighting gives life to the space at night so this is very much a garden for all seasons and all hours."
The project has been funded by the environmental charity Groundwork which uses the profits of the Marks and Spencer carrier bag charge and Douglas Borough Council and the Douglas Development Partnership.
---
TE-21 EXHIBITING GROUP LAUNCHED
TE-21 (Tessellated Expression for the 21st century), a new exhibiting group, was launched in Chartres, France, on 25 October 2008 by four mosaic artists, each internationally recognised. They were Elaine M. Goodwin (England), Dugald MacInnes (Scotland), Lucio Orsoni (Italy) and Toyoharu Kii (Japan).